About Gigly
Gigly is a project which tries to bring light into the culture and local scene by providing a rich user experience with detailed artist and gig information. Let's say you are in Cologne for a weekend and you have no clue what to do , you could just open up the app or the site and look up what is going on around here. I was hired to do some work as a freelance! This project was done in Q4 2013.
The transformation
Gigly was already running in a prototype like phase when I joined the project. My objective was to design a modern facelift with an intuitive and easy to handle design. Trying out new structures and ideas to keep the experience at a peek for the user but still straight forward. So this is what Gigly would welcome you with. A search. After all we don't want to waste your time offering you content you don't want to see , but if you would like to have a look at the recommendations you can simply scroll down and you'll get the recent featured artists. n.
Sign in with your personal account
Like most sites dealing with social networking , gigly also allows you to sign up and follow different artists.
The Artist page
A key part of the page is the artist page. It was probably the most worked on page trying dozens of different solutions for different problems. In the end this was the way to go. The head part always displays the most important data and has a hidden information tab. This keeps clutter down to a minimum.
Attribution to the great photographers
For the ease of finding the copyright owners of the images used in the shot above I have linked them with the photogallery box. The images have been used multiple times in the template.
They are not meant to be sold with the design and only serve for placeholder issues on my portfolio. If you wish me to remove your shot just contact me.
In the list below you can aknowledge who owns Copyrights to the photos. All of them Use CC with commercial use while using name attribution. Thanks to those people for sharing their photography ! As I do respect their work and value it I try to do my best to keep up credits for them:
The hidden information tab:
To keep consistency when artists don't have a biography or locations don't have information attached , I decided to do a flip version. This helps maintaining a clear and complete design solution.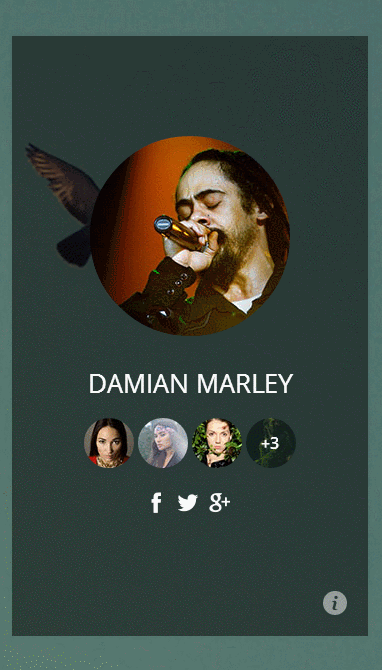 Mobile Yes Please
Nowadays a service such as Gigly won't be able to get itself through without a mobile version. Especially thinking about the fact that you are on the go you won't be able to get on a stationary computer.
The interface is simple and uses gestures known from native apps such as twitter or facebook to ensure a great experience and a quick start without much trouble or thinking. The functions are easy to access and well structured to diminish any confusion.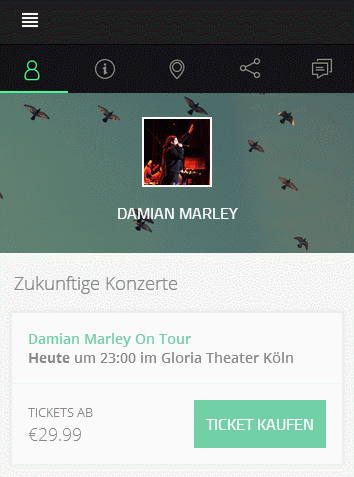 It's still a Work In Progress
At this moment Gigly is taking a breath to re-orientate and hopefully start with a new funding and facelift later this year. Thus the design phase is not fully finished yet, while it has approached near final stage a few elements will most likely be changed due to user critiques or just the overall feeling of not fitting into the scene.
You have not seen it all yet
… as I want to keep some secrecy before we head for a launch ! Stay tuned.